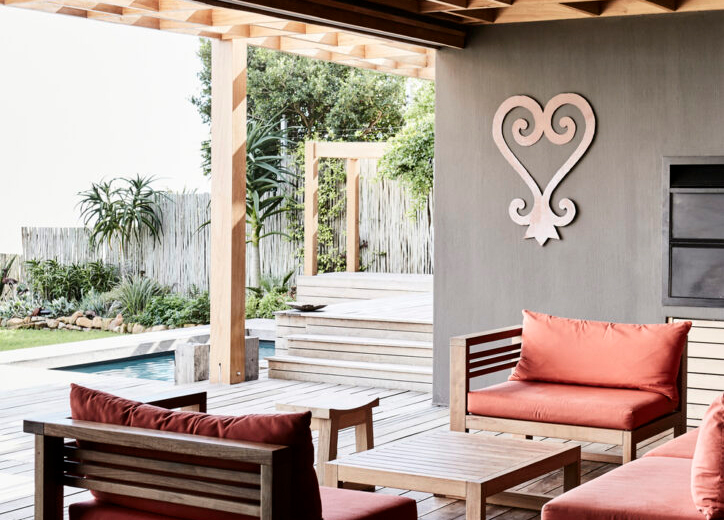 A convivial, contemporary outdoor lounging area is more essential than ever at the moment – and not least because both family members and visiting friends always seem to gravitate naturally towards them. Here are 10 enviable alfresco lounges from which to take some inspiration as you plan or renovate your own outdoor living space
CLASSIC CHIC
Pergola-covered and with a river-stone floor, this enviable patio is part of a holiday property on the Balearic island of Mallorca. The pergola itself is supported by plastered masonry pillars, with a forged iron top frame and cross wires covered with bamboo and a salvaged mature grape vine. The built-in seating was added during the home's recent renovation: "Small spaces always feel bigger with in-built seating arrangements," says designer Oro del Negro of More Design (moredesign.es).
Tip : The seat pads and scatter cushions were upholstered in Tibi Soft linen from Yutes (yutes.com), while the vintage wooden chair and table were both purchased by the homeowners at flea markets on the island.
KEEP IT COUNTRY
Asked about the charming mix of vintage and reclaimed pieces that characterise their contemporary home in the Cape Winelands – including this romantic veranda – the homeowners say: "We don't find them; they find us. They are mostly passed-on heirlooms and junk-shop or reclamation-yard finds." The collection of blue and white plates that hang on the wall here, for example, belonged to one of the owners' mothers.
Tip : This is a look that can't be forced, and takes some skill to put together in order to create a similarly dreamy and effortless feel. Start with key pieces – an eye-catching vintage rattan chair, or a collection of vintage china – and build the rest of the look around them.
MIXING DECK
Sporting a panoramic view of the Atlantic Ocean, this front deck is much more like an outdoor room than a conventional veranda: it has sliding wooden shutters that can be used to partially screen it from the elements – such as strong winds or harsh sunlight – or to fully and securely enclose it. The wooden outdoor furniture is from Bloc Outdoor (blocoutdoor.co.za) and the wall decoration was picked up on the homeowners' travels.
Tip : Apart from the shutters, all the timber used for the house – including this sculptural ceiling and the decking – is from an alien tree species that is currently being systematically removed from local forests.
STONE COOL
A seriously sophisticated holiday home needs outdoor living spaces to match, and this elegant patio is perfectly appointed for relaxing, day and night. Designed by the homeowner – who is the creative director of a large fashion retailer – every aspect of the space has been as carefully considered as the rest of the house. The adjacent pool area is the perfect spot for magical summer parties alfresco.
Tip : The metal pergola was custom made and is topped with natural cane. The outdoor lounge chairs are from Roda (rodaonline.com) and the tables are the homeowner's own design, while the bright cushions that soften and adorn the pool's stepped edge were made in Turkey for A Casa Bianca (acasabianca.com)
SIMPLE PLEASURES
This sleek covered patio is used as an outdoor entertainment area for dining and lounging, with separate zones created for each function. Aesthetically, the space is a considered dialogue between contemporary and traditional elements, with resolutely practical finishes – such as the polished concrete floors – softened by classically styled furniture that includes lots of natural wood as well as comfortable upholstered pieces.
Tip : The wooden armchairs are from La Grange Interiors (lagrangeinteriors.co.za), and the shelf-cum-screen at one end of the space – which holds a mix of pot plants and collectable ceramics – was custom-made by Anatomy Design (anatomydesign.co.za).
GREEN ROOM
In a family home that's all about seamless indoor-outdoor living, spaces suitable for enjoying family time and entertaining friends are an absolute essential. This patio runs the house's full length, and all the doors can be flung open to connect inside and out. Interior designer Simone Hirsch of Simone Katherine Interiors (simonekatherine.com) has created a genuinely romantic space that includes this comfortable lounge area, festooned with hanging plants and surrounded by garden greenery.
Tip : The choice of a bright blue outdoor upholstery fabric, combined with the natural textures of the plants, rattan furniture, grass matting, and side tables in stone and ceramic, makes for a vibrant space that also delivers warmth and understated luxury.
BARN IS BEAUTIFUL
One side of this contemporary barn-style holiday home in the country opens up completely to an outdoor living area that the homeowner describes as his favourite part of the house. Positioned so that it takes in views over the dam, orchard and forested surrounds, the decked entertainment area features zones for outdoor cooking and eating, and this pared-back yet luxurious seating space.
Tip : The outdoor sofas were designed by architect Greg Scott (scott.partners) with bases made from spruce to match the interior of the house. The dining table was commissioned from James Mudge (jamesmudge.co.za) and the chairs are by Hay (hay.dk).
WHITE OUT
Gathering around an open fire is always going to be one of the best ways to enjoy spending time outdoors with friends and family. This fire bowl is situated in an intimate outdoor "conversation pit" that is dropped below ground level and surrounded by built-in planters. The plants and the change in level reinforce the feeling of privacy, with the naturalistic, largely indigenous planting referencing indigenous landscapes.
Tip : The fire bowl seen here is a clean-lined, contemporary design that can also be used as a barbecue and is available from Outdoor Warehouse (outdoorwarehouse.co.za). A wide range of styles is also available from The Firepit Company (customfirepits.co.za).
SUMMER HEAT
Perfectly suited to the seaside sanctuary of which it forms a much-used part, this pool-adjacent patio area is cool and relaxing. Key to its success are the dappled shade provided by the slatted wooden pergola, and the provision of a wide variety of appealing lounge seating options, which range in style from the built-in banquette to rattan hanging chairs and canvas butterfly chairs.
Tip : Offsetting the prevailing use of wood and concrete with canvas and rattan accents means there's visual interest here as well as a variety of seating styles. The latter facilitate almost any holiday occupation, from an afternoon chat to solitary reading.
CASUAL ELEGANCE
This sophisticated modern veranda is situated in the new wing of a family home, and leads onto a verdant garden and swimming pool. The restrained colour palette, traditionally styled fireplace and elegant lighting give the space the sort of sophisticated flair that is usually only seen in interior living rooms – while the easy, outdoor-style furniture lounge seating options convey a more casual feel. The result is a space that's perfect for entertaining.
Tip : Homeowner and interior designer Simone Hirsch of Simone Katherine Interiors (simonekatherine.com) designed the coffee table and whitewashed oak couch with cushions in an outdoor navy fabric, piped in white. The wooden chairs with slatted backs are from Tribù (tribu.com).