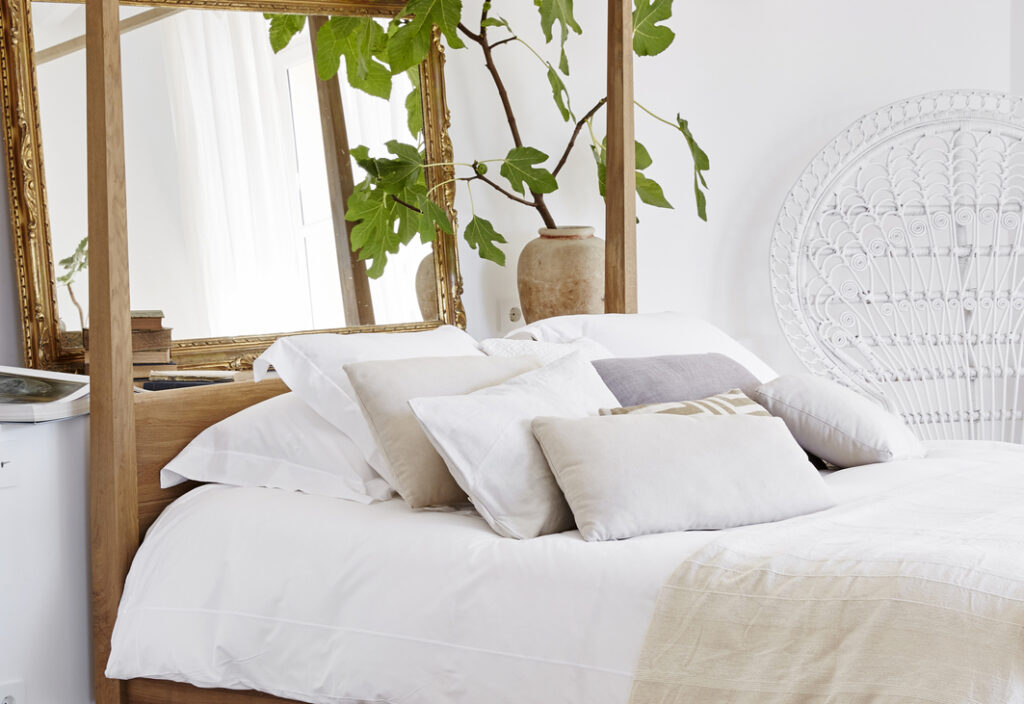 Combining an array of materials and textures that range from natural stone to wood, linen, bamboo, river pebbles and more, these bedrooms have one covetable key trait in common: an atmosphere of complete and total tranquillity.
SIMPLE PLEASURE
This poolside guest suite is located in an old outbuilding close to a renovated holiday home in Sóller, Mallorca, and features a sculptural built-in bed – topped with a tumble of cushions in a plethora of natural textiles – as well as a delightfully rustic (and barefoot-friendly) flooring finish that has been handmade by laying small river pebbles in concrete. Decorative touches are essential in simple bedrooms, but shouldn't overwhelm or clutter the space. The metal light fitting used here is precisely the right scale, as  is the group of simple vases on the built-in shelf behind the bed, which are by Mallorcan ceramicist  Dora  Good (
www.doraceramics.com
).
TROPIC WONDER
This enviable bedroom is situated in a holiday house near Vilanculos, Mozambique, called Casa Comprida – Portuguese for Long House. It's right on the beach, with a traditional fronded jekka roof, and the homeowner asked the architects to create a way to suspend the very necessary night-time mosquito net from above, rather than having a four-poster bed and so, they designed a delicate yet robust frame that cantilevers off the back of the headboard to support it. Airy natural linen and netting – all in white – add much-needed elements of crisp coolness in a tropical setting. Anchor these with chunky, rough-hewn furnishings and finish with decor accents in natural tones to bring the colours of the landscape indoors.
FINE ROMANCE
Pure white walls, white ceilings and poured white Pandomo (
pandomo.com
) micro-cement flooring form an airy backdrop to the unpainted wood and natural textures that enliven this master bedroom. The fireplace provides the assurance of flickering warmth during the winter months, adding yet another dimension to the romantic yet easy-going feel of the space. Use decor elements to add playful and dramatic touches as required. Here, the vintage peacock chair and four-poster add personality to the room, while the sheepskins and ceramic pots on the mantelpiece provide extra tactility.
HEART OF STONE
The pared-back main bedroom in this Mediterranean holiday home is all about showcasing the textures of the stone wall uncovered during a recent update. An extra element of originality comes from the two stone hitching posts – originally used for tethering animals and discovered in the courtyard of the property during the renovation – that are set into the wall to hang and display clothing items and accessories. Keep the focus on a feature wall by ensuring that everything else in the space is resolutely minimalist: avoid the temptation to add colour or anything beyond the essentials when it comes to decor. Here, a pair of standing lamps from IKEA (ikea.com) provides illumination and two slender floating shelves function as bedside pedestals.
FARM STYLE
A Swedish filmmaker and photographer's Mallorca home is the manifestation his dream of creating a house that was 'very welcoming and with a warm, cosy feeling' he  says. The architectural brief was to preserve the dwelling's original farmhouse features, which has made for rustic yet comfortable spaces. In this bedroom, vintage linen combines with rustic wooden stools to create a traditional yet casual feel. Layered textures make a simple space inviting, adding warmth without clutter. The natural river-pebble floor in this bedroom combines evocatively with the wooden ceiling beams and windows so typical of farm buildings, with the classic wooden stools and tactile linen throw on the bed adding further authenticity.
IN THE ABSTRACT
Proof positive that an all-natural bedroom can be highly sophisticated, this space combines a softly finished micro-cement floor with plenty of other natural materials – including wood, bamboo, jute and linen – to create real depth and a subtle sensuality. The bedding and scatter cushions in tones of green, grey and blue add touches of freshness and a genuinely inviting feel. Look out for vintage bamboo pieces such as this gorgeous wall hanging, which was found at a local flea market: its satiny patina, created by time and use, adds a unique and memorable touch to a pared-back scheme.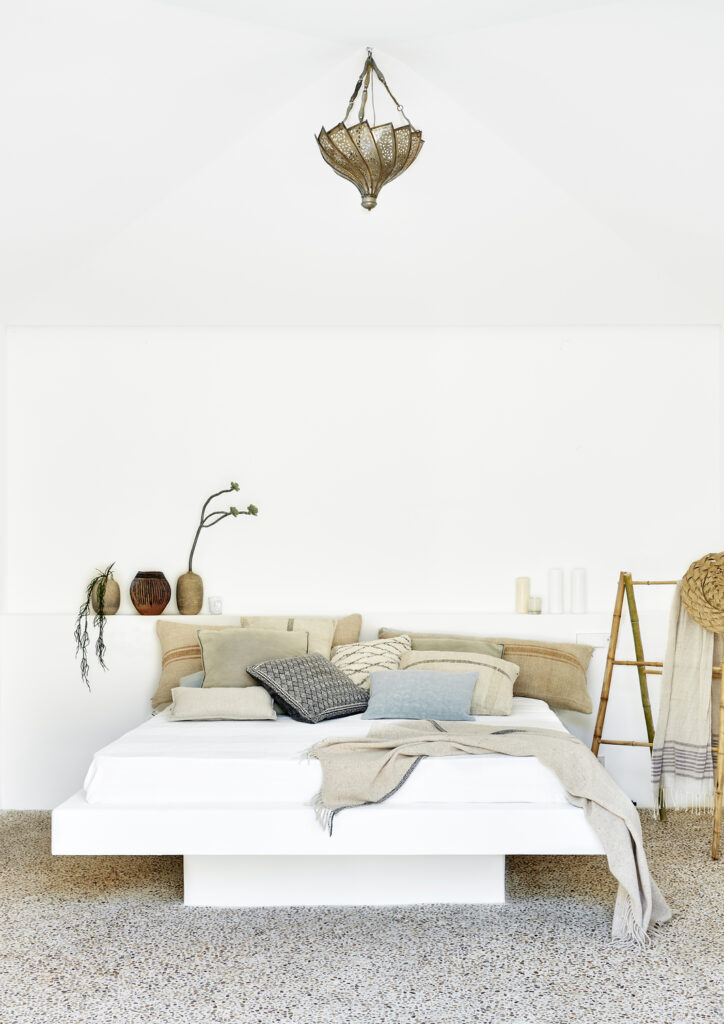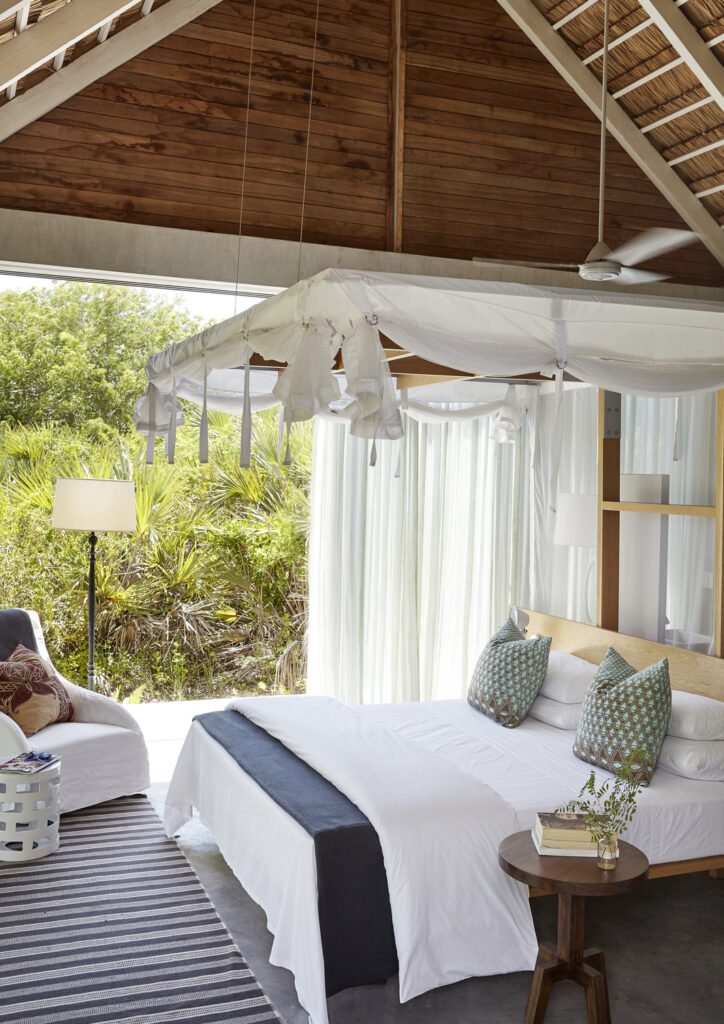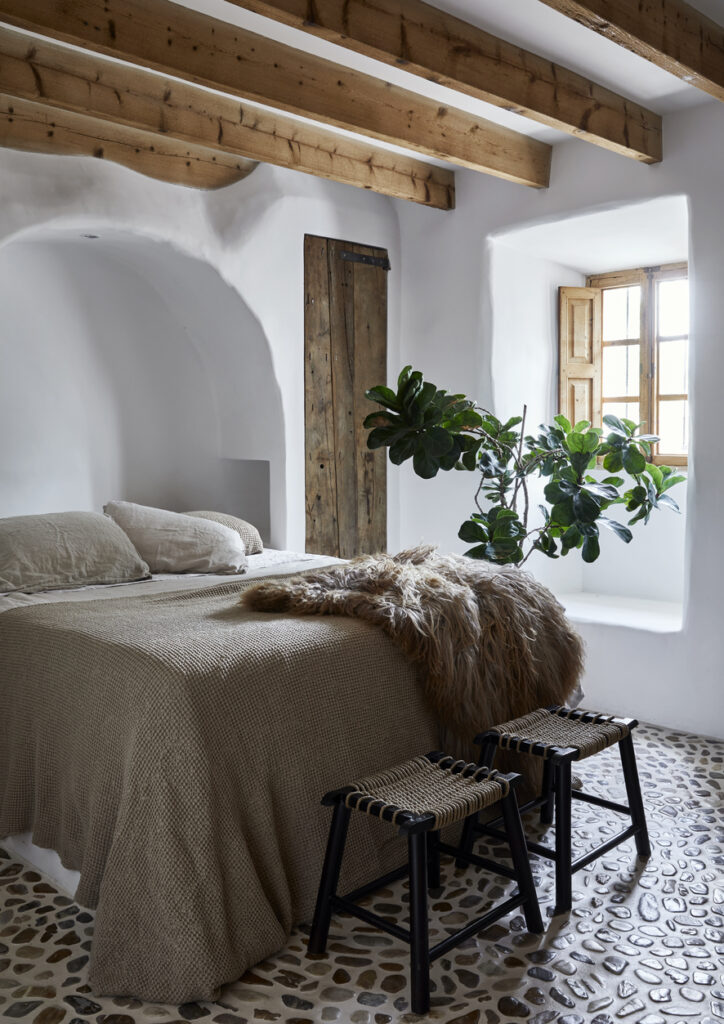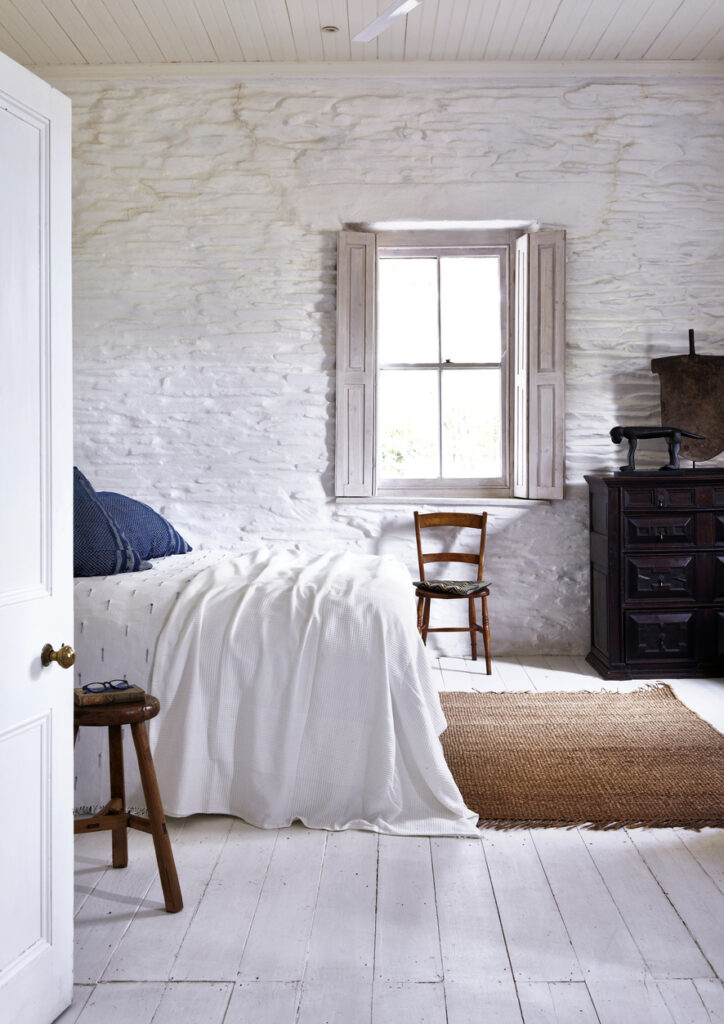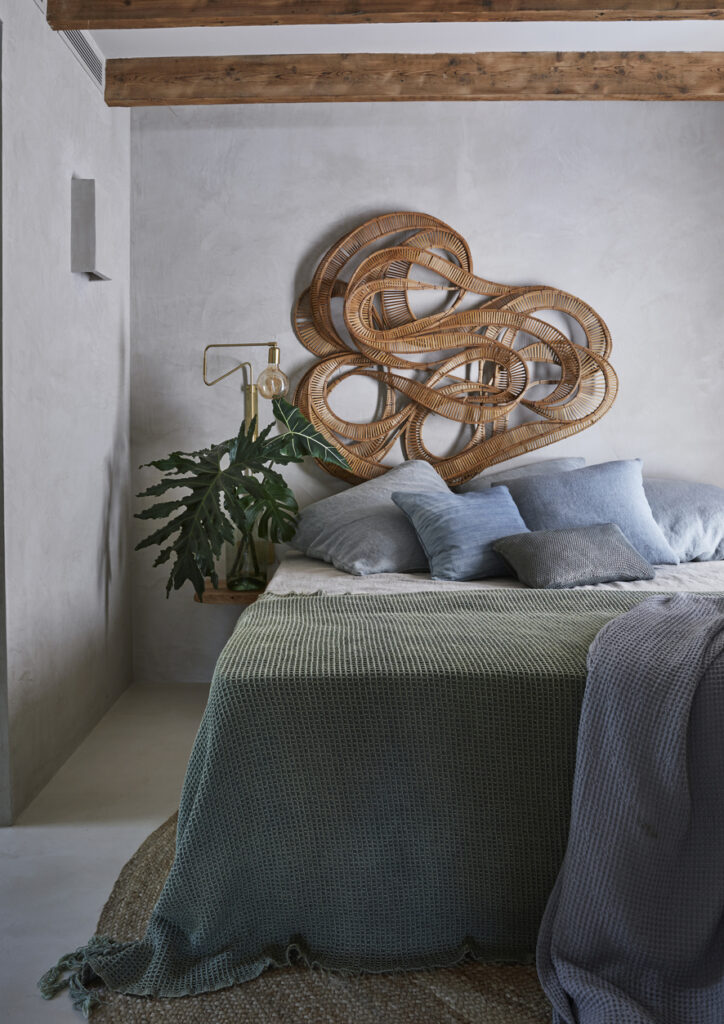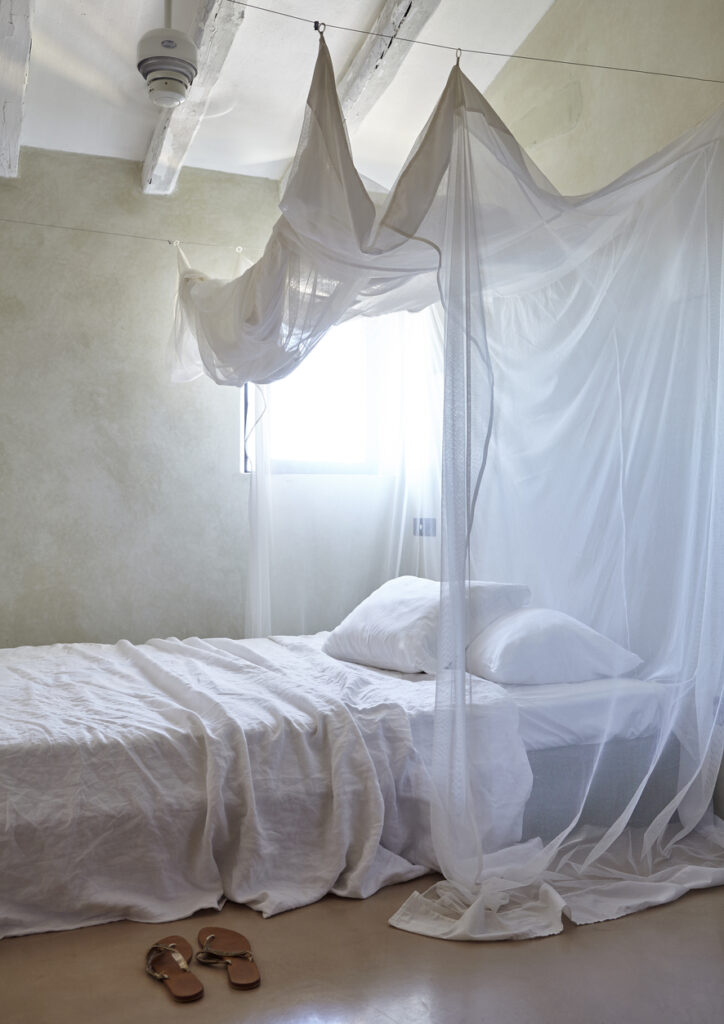 Share this article with your friends